We all love hearing and reading stories and if you want to get the attention of your customers or client just tell them a story through images and illustrations in your design or in your website.
I am listening to this quote from my childhood that "A picture is worth a thousand words". So today I am going to share the top 10 Free illustration websites' names and their link to download and use their illustrations to use for free anywhere in your design or website without paying any penny.
Well most of the free illustration sites in this list are copyright-free, it's common thought to double check. At most, you'll need to give the original author credit somewhere on your site.
Now if everything sounds good to you then let's start the countdown of 10 free illustration websites lists.
1. unDraw
unDraw is a truly open license. This website has been available since 2007 which is maintained by Katerina Limpitsouni. And Code / Design by Aggelos Gesoulis. This website has more than 500 illustrations in any category.
The best thing about unDraw is that you can download illustrations in two image file formats: PNG/SVG. And the second best thing about this website is that you can customize its illustrations colors on the website by just using HEX color or by moving your cursor on the color options which are already available on the website.
So you can take a look on unDraw when you try to tell your story on the website by using these free illustrations.
---
2. DrawKit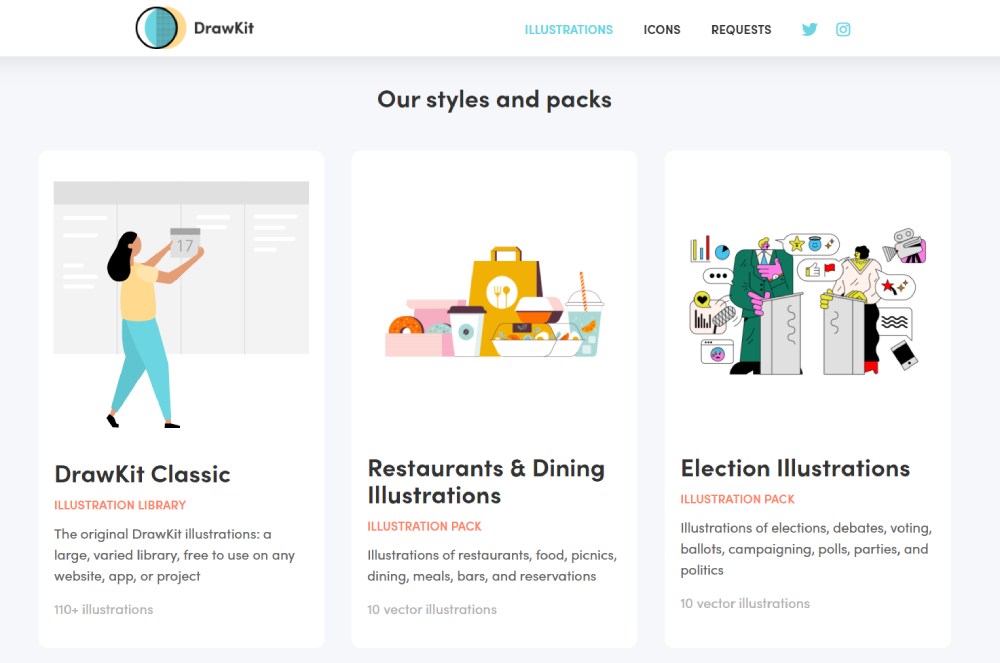 DrawKit has a bunch of different categories and options to choose your illustration. You have to download the set of illustrations and then you can use them in your next designs. It is completely free to use for personal and commercial projects.
Personally what I like about DrawKit is that you can download a few illustration animations for your project too for completely free. And you have the option to download free icons as well.
So don't forget to check this awesome website before finalizing your design.
---
3. Absurd illustrations
Absurd illustration has awesome creative and imperfect looking illustrations which will make your design or website look so perfect. Absurd illustration has kind of illustrations which will make you think and wonder your own imagination to make and generate a story by just watching their illustration.
So definitely you should try to use their illustrations on your website for at least on time.
---
You may like this list: Top 15 best websites for watching and downloading dubbed anime in 2022
---
4. Humaaans
Do you need human illustrations for adding some emotions and liveliness to your design or website ? Then surely you should visit humaaans it has high quality colorful humans illustrations which you can mix and match with their library to use them into you projects or websites.
---
5. IRA Design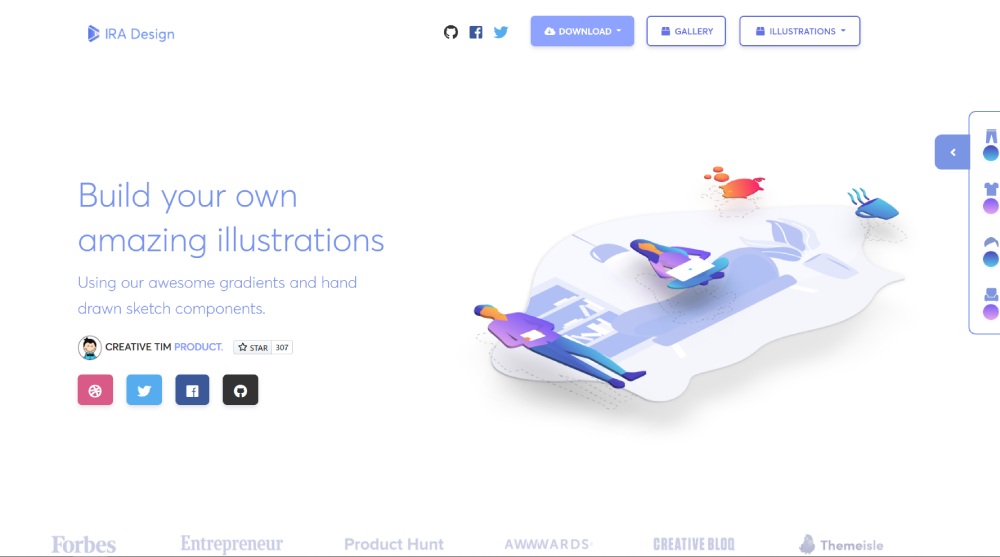 No doubt gradient colors are beautiful. Isn't it? IRA design will provide you to build your own awesome illustrations by using their gradient colors. They have beautiful gradient options which you can use to customize your illustrations. Also you will have different categories to choose your illustrations Like background, objects and characters.
You have options to download the illustration in PNG, SVG or All at the same time and then you are set to go.
---
6. Ouch!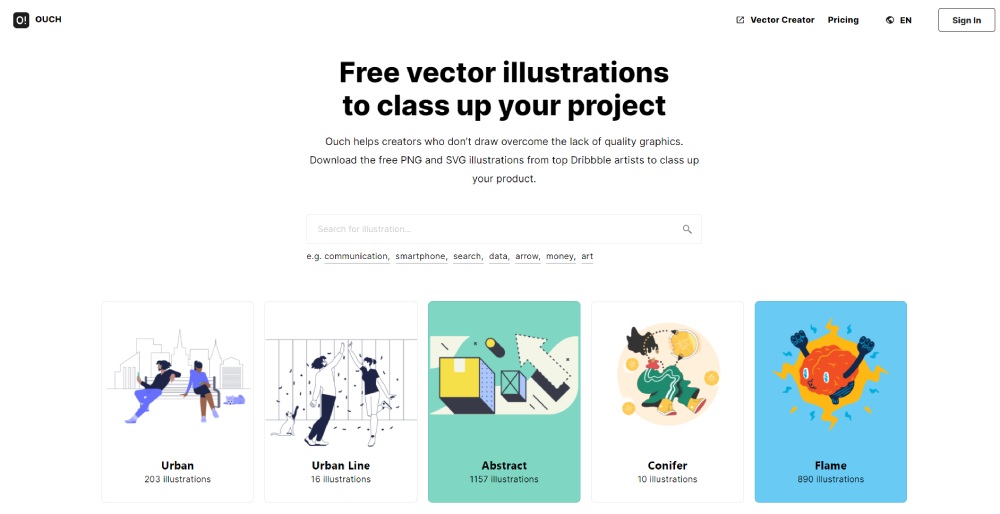 Ouch! Is the part of very popular vector art provider website icons8. Icons8 is trying to expand into other areas like illustrations. On ouch! You will get great illustrations which are designed by top Dribbble artists.
So if you want some creative art works for your project then Ouch! Is definitely a good place to visit.
The license must be attributed in the form of a link.
---
7. ManyPixels
This site is very similar to unDraw but both have different designers and developers so you get some decent quality work with lots of options like Two color, Flat line, Isometric etc…
It is royalty free.
---
You may like this list: Top 25 Sports Magazines in 2022
---
8. Interfacer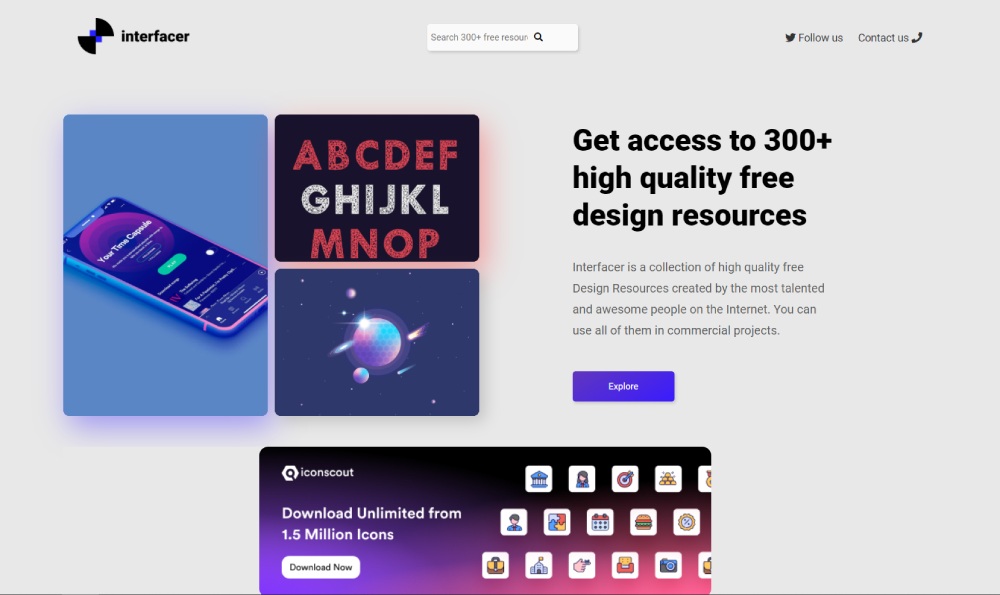 It has over 300+ high quality design stuffs from icons to illustration and lots of mockups and UI kit. Every single stuff on this website will open a new tab and redirect to you on different websites to download that stuff.
If some links are not working then you can simply google them and you will get that stuff right there.
---
9. Blush
Blush is providing a lot of illustrations from the designers around the globe. You can use blush to customize Humaaans characters as well.
It will only give a few free illustrations. If you wish you can buy their any plan and then you will get some extra benefit like they have Plugin for sketch and figma to install and customize and do whatever you want to do with that illustrations in those platforms.
---
You may like this list: Top best global brands of 2022
---
10. Freebie Supply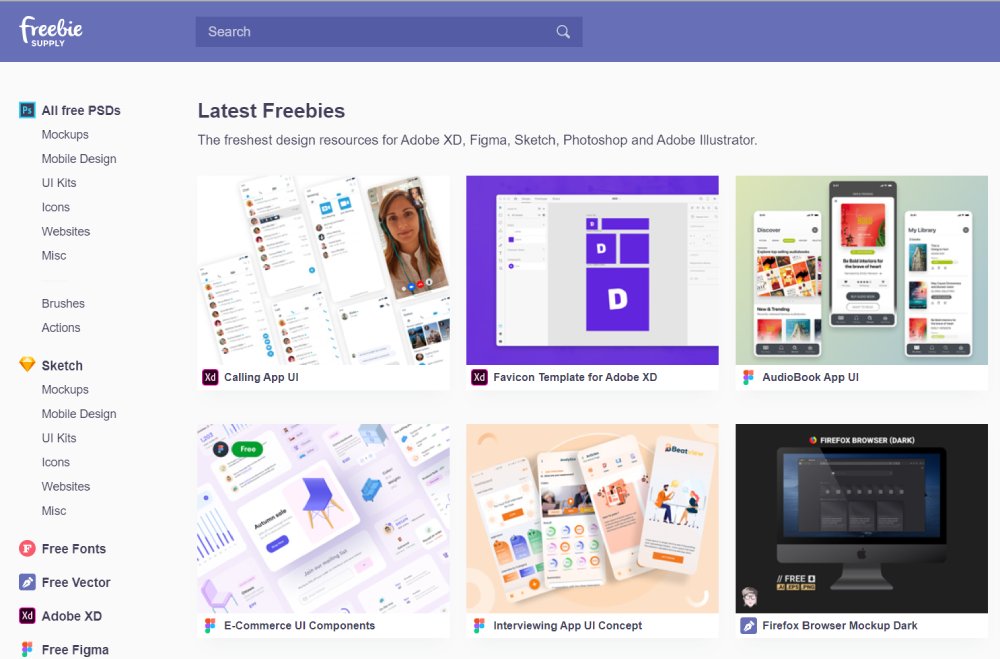 It has tons of free stuff like Mockups, illustrations, icons etc… So you have to take the help of search option here. Simply go to the search box and type illustrations. After that you will see a bunch of images and stuff below so scroll and jump from page to page to find out the perfect illustration for your website.
---
Conclusion
I have tried my best to make the list for free illustration provider websites. Hope it works and helps you in your project.
Designers from the globe have given their time and efforts to provide free stuff for the people and design community so you can share your design or work with them to appreciate and thank them.
| | |
| --- | --- |
| | |
| 1. | unDraw |
| 2. | DrawKit |
| 3. | Absurd illustrations |
| 5. | IRA Design |
| 6. | Ouch! |
| 7. | ManyPixels |
| 8. | Interfacer |
| 9. | Blush |
| 10. | Freebie Supply |
Top 10 Free Illustration Websites for Business and Blogs
Keep smiling and Keep designing.