Whatsssup Ladies and Gentlemen welcome to our most interesting listing article provider toplistin.com and in this article, you will know about Top 10 Indian movies which are based on Virus Outbreak. Are you excited?
Note:- If you have not subscribed to our website. Then, I highly recommend you subscribe to our website to get a daily interesting article like this.
People are suffering- from the biggest disaster in the world right now, Everywhere in the world, people, media, government everybody is talking about COVID-19.
We would not even have ever thought of the situation in which we are right now. Due to the spread of infection and viruses, many countries are lockdown including India. Indeed, we must talk about the COVID-19 and fight against Coronavirus, As this one the biggest obstacle in the front of human lives.
In this situation, you might have watched several Hollywood movies based on viruses and zombies. But, you might have not watched Indian movies based on infection or virus. Right? One of the reasons for this is that people do not appreciate this kind of movie in India. Because of that many movies are not made based on this kind of situation.
But, today I have done some research and come up with some movies which are based on the virus, infection, and zombie. So, without wasting time let roll the list of Top 10 Indian movies which are based on Virus Outbreak.
Let's start the list with number 10.
10. Rise of the Zombie
Genre:- Horror/Thriller
Released:- 2013
Duration:- 1h 30m
IMDb rating:- 3.6/10
There are not many people, who know about this movie. Rise of the zombie is a serious kind of movie, In which, we see a story of a wildlife photographer, who goes on a solo trip and during the trip, one animal bites the photographer and that person becomes infected.
Rise of the zombie did not stand well on the box office. Moreover, this movie flopped. The audience did not like this movie. At present, there are many people who don't know about this movie.
9. Ghost Stories
Genre:- Drama/Horror
Released:- 2020
Duration:- 2h 24m
IMDb rating:- 4.2/10
Ghost Stories is a Netflix film. So, you can have high expectations. However, this web series or say movie fulfills all expectations. It is a multiple story film, in which we get to see 4 stories, Out of 4 stories, 3rd story is made by Divaakar Banerji.
In the 3rd story, people of big cites start eating the people of small cities. Just like a zombie movie or epidemic.
8. Aazaan
Genre:- Action/Drama
Released:- 2011
Duration:- 2h 5m
IMDb rating:- 4.4/10
In the Aazaan movie, we get to see a story of Roy Agent. Who is sent on a secret mission where he has to find the cure of Virus. In this movie, the lead role is played by Sachin Joshi, Who played the character of Azad Khan. There are many action sequences in the film which are awesome.
However, According to the critic, the screenplay is not good enough. So far, there are not many directors who tried to make this kind of film in India so far.
7. The Dead 2: India
Genre:- Horror
Released:- 2013
Duration:- 1h 38m
IMDb rating:- 5.1/10
It is a sequel to and follows up on the events of The Dead (2010). This movie is not a completely Indian movie, However, the whole movie is based around India and filmed in India. This is a zombie movie in which the story begins from Somalia. When some workers come to India.
There is a person among the workers who is already infected, and that infection starts spreading. The main character is an American engineer, who worked in Rajasthan. When the engineer gets to know about the deadly virus he goes there to fight and to save his lover Somalia and survived. Moreover, it is a survival-based movie.
6. Miruthan
Genre:- Action/Horror
Released:- 2016
Duration:- 1h 38m
IMDb rating:- 6/10
It is a Tamil movie. In this movie, the story goes something like this, there is a traffic cop, where the virus is being spread in the city and the traffic cop tries to rescue the doctor. As the cop believes that the doctor would have the antidote of the virus.
In this movie, the Virus is being spread by a chemical factory, by which a dog is being infected. As a result, When an intoxicated dog bites a security guard and infection spreads like fire by a security guard. After that, this movie goes the same as the zombie movie goes to the end.
5. 7aum Arivu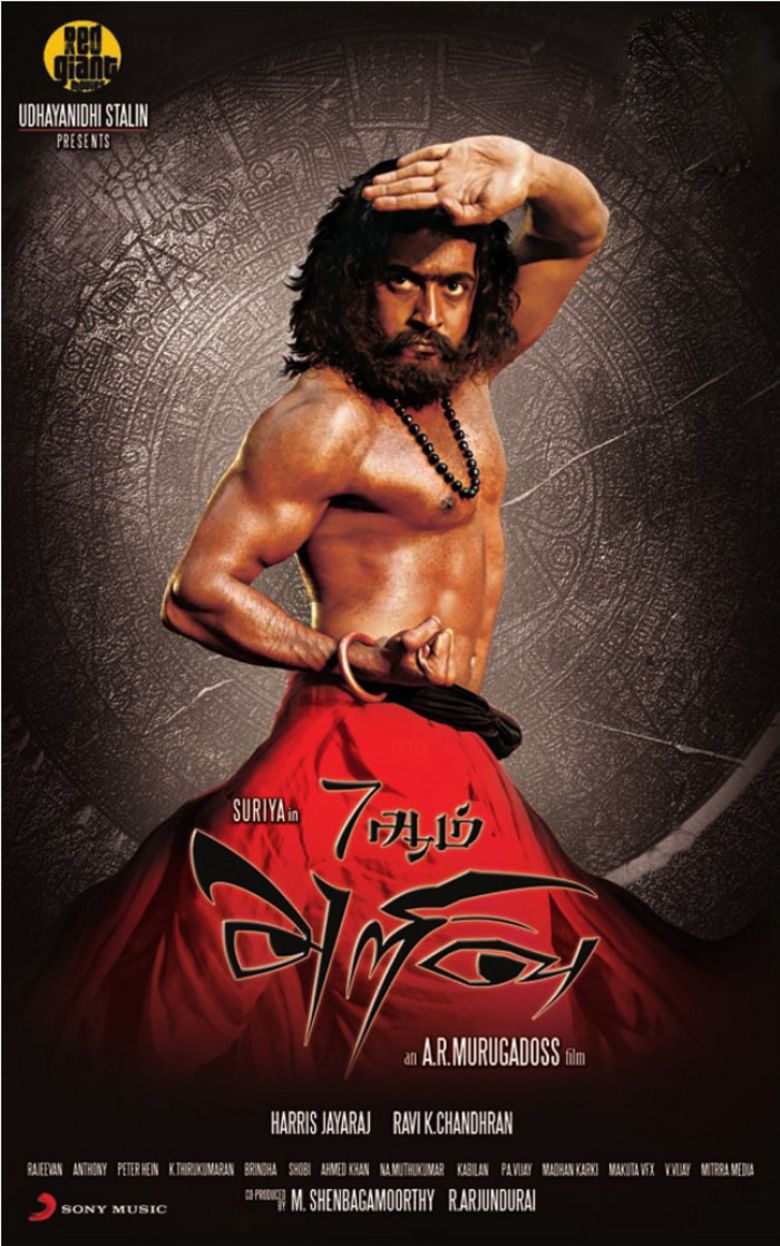 Genre:- Sci-fi/Action
Released:- 2011
Duration:- 2h 48m
IMDb rating:- 6.2/10
If we translate 7aum Arivu in English, we get 7th sense. A.R. Murugadoss directed this movie, the director has given many super hit movies like Ghajini.
The story revolves around Subha, a genetic engineering student and Arvind, a worker at Bombay Circus. Arvind is a Descendent of the legendary Bhodi Dharma, who lived during the 6th Century AD. As per the story, Bhodi Dharma is an exceptionally skilled fighter and a Medic.
Subha's theory is that the DNA sample of a person contains the memory strands of their ancestors. Subha's main aim is to perform a genetic experiment on Arvind and to revive Bhodi Dharma's skill once again.
She submits her thesis to various countries. Apparently, China is being a bad girl and is plotting to wage a bio-war against India. They get shocked on seeing Subha's thesis and send Dong Lee to carry out OPERATION RED to make sure that Bhodi Dharma's truth remains uncovered. The fate of the country rests on Subha's research and how she does it covers the rest of the story.
4. Go Goa Gone
Genre:- Comedy/Horror
Released:- 2013
Duration:- 1h 51m
IMDb rating:- 6.6/10
Go Gone is a very popular Bollywood movie. In which, we see the story of 3 friends who goes on the rave party. In that party, due to overdose of the drug, people become the zombie and epidemics situation is created.
Saif Ali Khan played his role very well in the movie, in this movie saif Ali khan played a self-proclaimed Russian gangster character, but in the mid of the movie, he says that he is from Delhi.
3. Dasavathaaram
Genre:- Sci-fi
Released:- 2008
Duration:- 3h 9m
IMDb rating:- 7.2/10
Kamal Hasan has been always visionary towards his film, and he did the same with the film. In the film, he plays multiple roles, In which there is a scientist, named Govind.
Govind discovers a deadly virus in his laboratory. Additionally, that deadly virus is sold by the Govind's senior to enemies. Now, Govind wants to find the virus and destroy it. But, Already a conspiracy is ready to kill the Govind by the enemies. As I said, there are many characters in the movie, and all those characters are played by Kamal Hasan itself. Which makes this movie interesting.
2. I
Genre:- Action/Romance
Released:- 2015
Duration:- 3h 8m
IMDb rating:- 7.3/10
It is a Tamil movie, who is directed by Sankar. Who is very famous for Robot movie. In I movie, the main role is played by Vikram, who is a successful model in the movie.
Who suffers from an infection. Later, in this movie, Vikram finds that the people have infected him because people were jealous of his success. Moreover, the character Vikram takes the decision to revenge and goes for a fight.
However, because of infection, his physical power does not allow him to fight due to the infection. How the Vikram takes revenge that you have to watch in the movie.
1. Virus
Genre:- Thriller/Drama
Released:- 2019
Duration:- 2h 32m
IMDb rating:- 8.1/10
This movie based on real events during the 2018 NIPAH Virus outbreak in Kerala. The plot is set in Kozhikode and follows the various stages of the epidemic from identification to its total annihilation.
It portrays heroic moments that helped in effectively controlling the Virus from spreading further. The film explores the collective paranoia created by the Virus outbreak and how it disrupted the life of individuals, both victims, and health care professionals. The saga of a group of brave people who stood up in the face of adversity, risking their own lives, fighting with all their will.
Conclusion:-
| | | |
| --- | --- | --- |
| | Movies Name | IMDb rating out of 10 |
| 1. | Virus | 8.1 |
| 2. | I | 7.3 |
| 3. | Dasavathaaram | 7.2 |
| 4. | Go Goa Gone | 6.6 |
| 5. | 7aum Arivu | 6.2 |
| 6. | Miruthan | 6 |
| 7. | The Dead 2: India | 5.1 |
| 8. | Aazaan | 4.4 |
| 9. | Ghost Stories | 4.2 |
| 10. | Rise of the Zombie | 3.6 |
The conclusion of this list is that Virus, I, Dasavathaaram, Go Goa Gone, 7aum Arivu, Miruthan, The Dead 2: India, Aazaan, Ghost Stories and Rise of the Zombie are the top 10 Indian movies based on Virus Outbreaks.