Google Chrome, Mozilla Firefox, Safari, internet explorer, edge, opera, etc. These are the top best internet browsers or say popular browsers. which are accessible on computers, smartphones, and some other electronic devices. Furthermore, Nowadays these browsers are almost used by everyone who accesses the Internet. Every day, billions of people use the browser around the globe.
So ladies and gentlemen, welcome to the most interesting website toplistin.com. Today, We will be listing Top Best Internet Browsers Usage shares in 2020.
Brief Information about Internet
As we know that the Internet craze has increased a lot in the present day and almost every person using the internet for their multi-purposes, From 1st Generation to the latest generation of internet 5G.
The father of wireless technology, 1G was launched in the 1980s. Despite its limitations, it can be considered a revolution in true sense since it made 'communication on the move' possible for the first time.
And today the 5th Generation Expected to be launch in 2020 in India, hopefully with the rest of the world, 5G network shall set forth the course for internet penetration in our day to day lives. Additionally, It shall be instrumental for the machine to machine connections and is expected to deliver data speed above 1 gigabit per second.
Why the internet is most important at present?
Today the Internet helps us to share information from any place in the world. The Internet is a source of a lot of information for educational purposes and other purposes. Which enables fast transfer of news or incidents to people. It is being used for communication from the end of the world to the other, That's why the internet is given much importance and that is why we must know the Top Best Internet Browser Usage shares in 2020.
We must have knowledge about the top browser as in this era, people care about much more than the drinking water. As a result, There was a time when people used to say that Food, shelter, and cloth is a basic necessity. But, at present scenario is changed drastically. The population is also rapidly increasing day by day. Thereby, the usage of the internet is also increasing simultaneously.
Method for ranking the web browser
Let's talk about some listing method in which we will be listing or ranking the best web browser. So, the list will be like 1 to last and additionally, we will be ranking the best browser on the basis of the percentage usages share. We will be also giving brief information about each best browser, releasing date, Developers and programming language by which the best browsers made. Without waisting time.
Let's the role the list
1.)
Google Chrome:-
Usages Share:- 70.7%
Developer(s):- Google LLC
Initial Release:- September 2, 2008 (11 years ago)
Written In:- C, C++, Java (Android app only), JavaScript, Python
Type:- Web Browser, Mobile browser
This is the most used web browser at present. Google Chrome is a cross-platform web browser developed by Google. It was first released in 2008 for Microsoft Windows and was later ported to Linux, macOS, iOS, and Android. This browser is also the main component of Chrome OS, where it serves as the platform for web apps. Chrome is the most used browser in virtually all countries, with most exceptions in Africa.
My Opinion and reason for being famous
Personally, Google chrome is one of the favorite web browsers among all the browsers. You may have the same opinion which I have. There are numerous reasons for becoming Google Chrome as the best and as well as gaining the maximum percentage share. The best and prominent reason which makes Google Chrome as a popular web browser is UI/UX, Security, cleanness and fast responsiveness. The second reason for popular this browser is that it is the Google product. Which builds the impactful trust on users.
2.)
Mozilla Firefox
Usages Share:- 9.66%
Developer(s):- Mozilla Foundation
Initial Release:- September 23, 2002 (18years ago)
Written In:- C+, JavaScript, CSS, HTML, C, Rust
Type:- Web Browser, Mobile browser
Now let's talk about Mozilla Firefox, or say simply Firefox. Mozilla Firefox is a free and open-source web browser developed by the Mozilla Foundation and its subsidiary, Mozilla Corporation. Firefox uses the Gecko layout engine to render web pages, which implements current and anticipated web standards.
In 2017, Firefox began incorporating new technology under the code name Quantum to promote parallelism and a more intuitive user interface. Mozilla Firefox is officially available for Windows 7 or newer, macOS, and Linux, its unofficial ports are available for various Unix and Unix-like operating systems including FreeBSD, OpenBSD, NetBSD, illumos, and Solaris Unix.
Information about Mozilla Firefox
Firefox is also available for Android and iOS, however, the iOS version uses the WebKit layout engine instead of Gecko due to platform limitations, as with all other iOS web browsers. Mozilla firefox quite popular among developers. As it gives the various opportunity to enhances the development intent. Mozilla is quite a secure web browser. Gradually, this browser is enhancing more and more.
3.)
Safari
Usages Share:- 6.08%
Developer(s):- Apple
Initial Release:- January 7, 2003 (17 years ago)
Written In:- C++, Objective-C and Swift
Type:- Web Browser, Mobile browser
Safari is a graphical Internet Web Browser invented by Apple.inc, which is based on the WebKit engine. This was first released on the desktop in 2003 with Mac OS X Panther, Meanwhile, a mobile version has been bundled with iOS devices since the iPhone's introduction in 2007. It is the default browser or says a pre-installed browser on Apple devices. A Windows version was available from 2007 to 2012.
Safari is coming on the 3rd rank in this list. There are several reasons for being this browser on this rank. One of the reasons is that safari is an Apple product and Apple products are too expensive and many people cannot afford it. However, there are people who prefer to download the browser and then use it. Moreover, this web browser is not pre-installed. You will find safari prebuilt in only Apple products.
If you watch movies then you must check this:- Top 10 Most Popular sci-fi Movies of All Time in 2020
4.)
Internet Explorer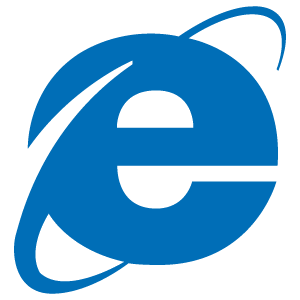 Usages Share:- 5.25%
Developer(s):- Microsoft corporation
Original author(s):- Thomas Reardon
Initial Release:- August 16, 1995 (24 years ago)
Written In:- C++
Type:- Web Browser, feed reader
Internet Explorer (formerly known by Microsoft Internet Explorer and Windows Internet Explorer, commonly abbreviated IE or MSIE). It is a series of graphical web browsers developed by Microsoft and included in the Microsoft Windows line of operating systems, starting in 1995.
It was first released as part of the add-on package Plus! for Windows 95 that year. Updated versions were available as free downloads, or in service packs, and included in the original equipment manufacturer (OEM) service releases of Windows 95 and later versions of Windows. However, this browser is discontinued but still maintained by Microsoft Corporation.
Information about Internet explorer
Internet Explorer is the most antique browser among all. But then also it is on the 4th rank on the list. There are multiple reasons for that. Let's start with the first reason. UI/UX makes this browser a bit complex. Despite, Microsoft corporation has made this browser super clean and elegant. This web browser may have got a low rank in the list if it is not the product of Microsoft and been pre-installed in the Microsoft Product.
As we all know, Microsoft leads the market in terms of computer operating software (OS) for many years and that is one of the biggest reasons for Bill Gates to be the richest person in the world.
5.)
Microsoft Edge
Usages Share:- 4.53%
Developer(s):- Microsoft corporation
Initial Release:- July 29, 2015 (4 years ago)
Written In:- C++ and Java
Type:- Web Browser
Microsoft Edge is a web browser which is developed by Microsoft. consequently, it is a product of Microsoft Corporation. Which was first released for Windows 10 and Xbox One in 2015, after that for Android and iOS in 2017, and for macOS in 2019.
Edge includes integration with Cortana and has extensions hosted on the Microsoft Store. Unlike Internet Explorer, Edge does not support the legacy ActiveX and BHOtechnologies.This web browser is not the oldest browser among all the web browsers. This one is the latest browsers from Microsoft Corporation.
Check this out: Top Most Popular TV Series Of 2020
6.)
Opera
Usages Share:- 2.44%
Developer(s):- Opera software
Initial Release:- 10 April 1995 (24 years ago)
Written In:- C++
Type:- Web Browser
Opera is a freeware web browser for Microsoft Windows, Android, iOS, macOS, and Linux operating systems, developed by Opera Software. Opera is a Chromium-based browser using the Blink layout engine. However, on the other hand, it differentiates itself because of a distinct user interface and other features.
There are three mobile versions of Opera which are Opera Mobile, Opera Touch, and Opera Mini. A gaming browser that was launched on 11 June 2019 is called Opera GX. This web browser is the most antique browser in internet history. After this web, browser other web browser has come.
Conclusion:-
| Best Internet Browser | Percentage (%) Share |
| --- | --- |
| 1.) Google chrome | 70.7% |
| 2.) Mozilla Firefox | 9.66% |
| 3.) Safari | 6.08% |
| 4.) Internet Explorer | 5.25% |
| 5.) Microsoft Edge | 4.53% |
| 6.) Opera | 2.44% |
Finally, ladies and gentlemen, these were the Usages share of the top best Internet Browser in 2020. In which Google chrome has the highest share with 70.7%, Mozilla firefox with 9.66%, safari with 6.08%, Internet explorer with 5.25%, Microsoft edge with 4.53% and opera with 2.44%. If you have any opinion or wanted to share you thought to us then contact us. We love to hear from you.
-Written by Ansh and Aditya